The Principal Dr. Don Mullin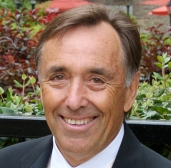 Dr. Don Mullin has been involved in education for more than 45 years as a classroom teacher in all divisions in elementary schools, including primary special education. Don was the principal of schools that offered innovative programs such as birthday admission to Junior Kindergarten, open-space teaching, multi-age groupings and contract learning. He had many years of experience as a senior administrator, including Superintendent of curriculum and program and Associate Director of instruction. He also served on various Ministry of Education committees dealing with curriculum issues.

Authors
Over thirty highly-qualified and experienced teachers work in teams to create our products. These outstanding educators from various school boards, many with consultant experience, have used their expertise to write Ministry-compatible Learning Advantage (formerly Summer Advantage®) books for each grade level.
French App Consultant

Gisele Minor is a French Canadian elementary school teacher who has taught all grades from Kindergarten to Grade 6 and has worked as a consultant in her school. She has revised many curricula for the Ontario Ministry of Education, translated many documents, worked for EQAO, and has written integrated learning units for elementary schools. She is currently working as a resource teacher in a French elementary school.


Editor

Noel Cooper was an elementary classroom teacher and curriculum consultant. In that role, he wrote and edited many curriculum documents for the use of teachers, students and parents. He also taught courses for teachers for more than 40 years.
He is the author of three books in his field of expertise.
Graphic Designer and Production Coordinator

Adele McKendrick, is an honours graduate in Graphic Design from Seneca College. She overseas our products final collection and file transmissions such as FTP.
She has many years experience in print production and layout.
Sales Manager

Michael Lewis manages our team of sales representatives. He has had several very successful years in the book trade including managing different Chapter stores. If you would like to join the sales team please contact him at mlewis@summeradvantage.ca
Contact Regional Sales Rep